Gourmet with Dinner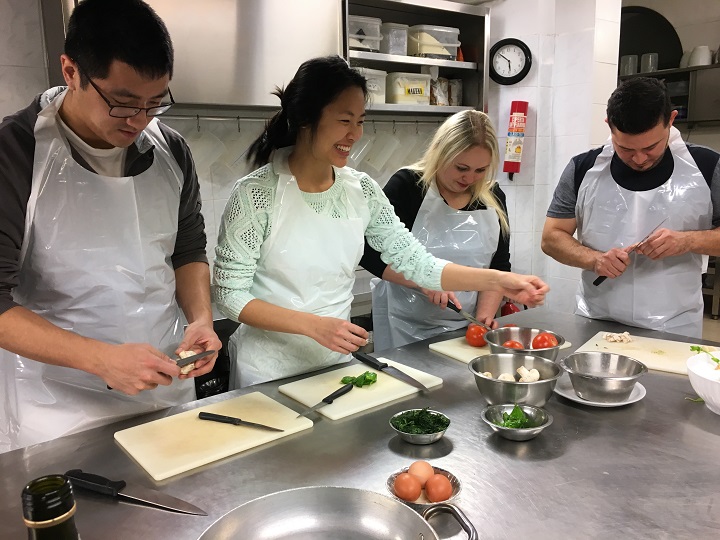 The Gourmet Cooking lesson is a completely hands-on experience, that will allow you to create and enjoy dishes
that you can bring into your daily life. 
This course is great for couples, small groups, families with children (from 7 years),and those who want to have fun in the
kitchen learning how to cook traditional Florentine and Italian dishes.
In a practical way, the Chef will demonstrate each to be replicated at your station, to make single-serving
dishes from the menu. At the end, you will enjoy the authentic dishes you created, accompanied by a D.O.C. Tuscan wine
in the Florentine style wine cellar.
The group size is minimum 2 and maximum 8 participants.

Classes are scheduled: every Thursday at 04:00pm and from March to October also every Saturday always at 04:00pm.
Sessions last about four hours.
Menus:
Crostini Toscani (Toasted Tuscany bread topped with pâté), Gnocchi alla Sorrentina (Sorrento style gnocchi), Peposo all'Impruneta (stewed meat), and Panna Cotta
Just Pasta: Lasagne ragù (Lasagna with meat sauce), Gnocchi al zucchini zafferano (potato gnocchi with zucchinis and safron sauce), Gnocchi sardi al pesto Genovese e pomodorini (Sardinian's style gnocchi with Genovese pesto and cherry tomatoes), Spaghettini Pommarola (spaghettini with tomato sauce), and Tiramisù
Bruschetta (Toasted Tuscany bread topped with tomatoes), Risotto funghi porcini (risotto with porcini mushrooms), Parmigiana Melanzane (eggplant parmesan), and Zuppa Inglese (trifle)
Mozzarella in Carrozza (Fried mozzarella sandwiches), Crespelle Fiorentina (Florentine crêpes), Filetto in crosta di olive (olive crusted pork fillet), and Biscotti di Prato (Italian almond biscuits) with Vin Santo
Florentine Menu (min 4 people): Crostini Fiorentini (Toasted Tuscany bread topped with stracchino -soft cheese- and sausage), Bistecca Fiorentina (Florentine T-bone steak), Papparedelle ragù (pappardelle pasta with meat sauce), and Gelato al cioccolato fondente (dark chocolate gelato)
Fish menu (only available for dinner, min. 4 people): Crostini di mare (Toasted Tuscany bread topped with seafood), Risotto or Spaghetti ai frutti di mare (Risotto or linguini with a fresh seafood sauce), Polpo in Galera (Octopus in jail), and Sorbetto Limone e Vodka (lemon with vodka sorbet)