Homemade Pasta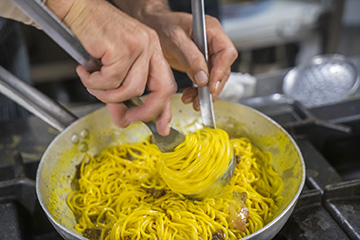 This course allows participants the opportunity to work with the various types of ingredients necessary for making fresh pasta, is aimed for those who wish to discover the techniques and secrets behind the ancient Italian tradition of homemade pasta making.
Participants will learn directly from the Chef, the techniques used in working with pasta, including using the polling pin and machine.
Altogether, participants will learn to prepare fresh egg pasta and freshwater pasta, along with three different sauces and a typical Italian dessert. The course is ended with a lunch of the prepared dishes in our wine cellar, the whole session lasts approximately 3 hours.
The lesson can be held in English, Spanish, and Italian, and the minimum age requirement is 7 years old.
Classes are held every Wednesday and Saturday from March to October at 11:30am.
The menu:
Fresh water pasta – Tagliatelle
Fresh egg pasta – Tortelli di patate
Raw tomato sauce
Mushrooms sauce
Olive oil, garlic and peperoncino
Panna cotta
Note: Vegetarian/vegan options are available, as well as any other dietary restrictions (gluten free, lactose intolerant, no tree nuts, no seafood, etc.). Please, inform us when you do your booking.
This lesson includes: the meal, bottled water, Tuscany wine, and recipes of what you prepared.